Get the most out of the Seraseq Reproductive Health Reference Materials
Non-invasive prenatal testing (NIPT) is one of the fastest growing test methods for screening pregnancies due to its superior sensitivity when compared to serum screening methods. In addition, problems with fertility and conception are leading to an increased use of assisted reproductive technology (ART) and subsequent preimplantation genetic testing (PGT) to improve the odds of pregnancy.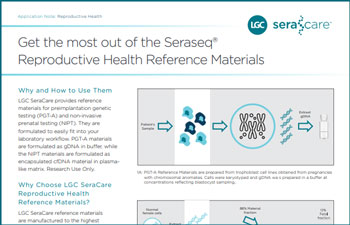 Using sustainable, customizable and consistent reproductive health reference materials is crucial for ensuring the performance of NIPT and PGT-A assays. LGC SeraCare provides reference materials for NIPT and PGT-A that can be used for assay development, validation and verification, and routine run QC.
The benefits to using these reference materials include:
• Proactively monitor laboratory workflows
• Compare methods
• Compare workflows
• Train your staff efficiently
Download our latest Application Note to learn why and how to integrate them into your laboratory's workflow.