VariantFlex Configurator
+
Build Your Own Clinical Genomics Reference Standard with our VariantFlex™ Configurator
Our VariantFlex Configurator tool allows you to easily build a custom reference standard for your specific assay. Browse from our large library of over 200 pathogenic variants, create your own variants configured to meet your specific assay requirements, and get an instant estimated price and turnaround time!
NGS Standards Customized For Your Needs
With SeraCare's VariantFlex custom NGS library, you can easily get the variants you need at your desired allele frequencies in the format that fits your assay. Your custom reference material will arrive in as little as six weeks, thanks to our streamlined process and flexible biosynthetic technology.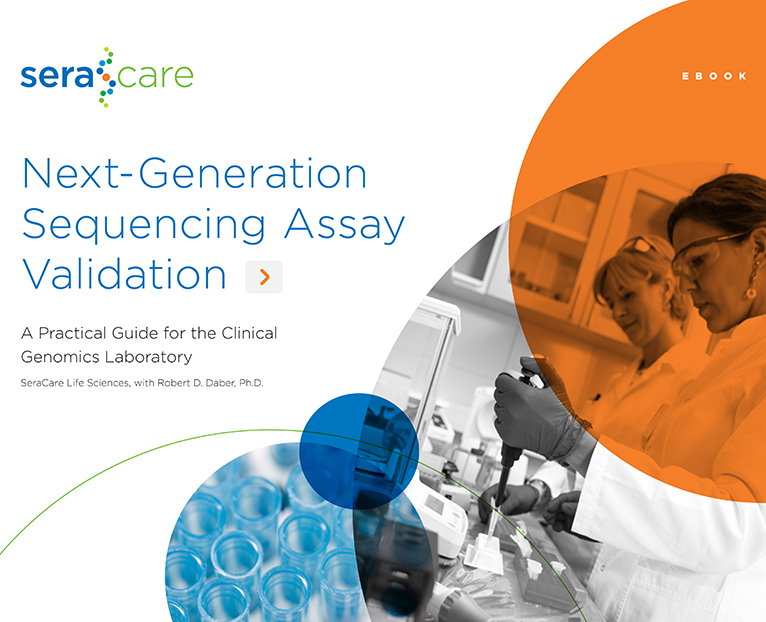 LOOKING FOR CLARITY ON NGS VALIDATION GUIDANCE?
Next-Generation Sequencing Assay Validation: A Practical Guide for the Clinical Genomics Laboratory
This practical guide walks through key considerations and guidelines to help you accelerate NGS assay validation for less money and greater confidence in results. Learn about:
Specific ways you can save time and money while thoroughly validating an NGS-based clinical genomics assay
Validation best practices from leading clinical genomics laboratories
How to navigate the many guidelines and requirements of the various authoritative bodies for clinical genomics testing
SeraCare have been fantastic in helping us develop the plasma-based EQA schemes. Technically, that's very challenging to deliver as an EQA provider; it's not an easy sample type to be able to just get on-tap from any patient or biobank.

- Dr. Sandi Deans, Director, UK NEQAS for Molecular Genetics and Molecular Pathology

We're basically getting more bang for our buck from [Seraseq] reference materials because they have more mutations represented within them.

- Dr. Brian Haynes, Associate Director of Bioinformatics, Asuragen