Best Practices for Clinical Labs:
Strategies for Implementing a Best-in-Class QC System
Could your lab operations be more consistent, predictable, accurate, and efficient?
This guide from Seracare can help.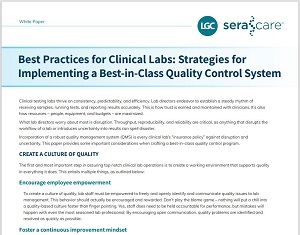 Clinical testing labs thrive on consistency, predictability, and efficiency. Lab directors endeavor to establish a steady rhythm of receiving samples, running tests, and reporting results accurately. This is how trust is earned and maintained with clinicians. It's also how resources – people, equipment, and budgets – are maximized.
What lab directors worry about most is disruption. Throughput, reproducibility, and reliability are critical, as anything that disrupts the workflow of a lab or introduces uncertainty into results can spell disaster.
The secret, of course, is quality control and a strong quality management system (QMS). This guide from SeraCare covers:
The importance of quality control in your lab
Actionable strategies for creating a culture of quality
How to measure, monitor, and improve your results
Tips for dissecting workflows and identifying inefficiencies
If third-party controls are worth your investment
What to look for in third-party controls