Comprehensive NGS-based reference materials for variant detection in lymphoid cancer
Lymphoma is a cancer of the lymphatic system and represents the second largest heme disorder. Next Generation Sequencing (NGS) is an important technology to identify the genetic changes involved in lymphoid malignancies. Genome-level understanding of these changes can aid in the identification of lymphoma subtypes and aid in diagnosis, prognosis, therapy selection, and patient risk-stratification.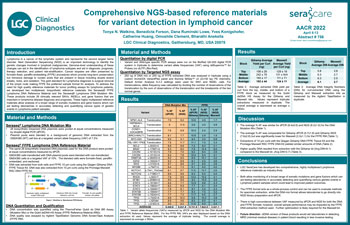 To address the need for high quality reference materials for tumor profiling assays for lymphoma patients, we developed two multiplexed, biosynthetic reference materials: the Seraseq® FFPE Lymphoma DNA Reference Material and the Seraseq® Lymphoma DNA Mutation Mix. Download this poster presented at AACR 2022 to learn more about our industry first reference materials which include 26 clinically relevant SNVs, INDELs, and gene fusions that are important in lymphoma disease diagnosis and prognosis.